At the forefront of power rental, continuous business growth and a trusted partner
MEMS Northern Depot is celebrating its 1st anniversary since opening for business on Wednesday 28th August 2013. The multimillion pound investment has reinforced MEMS position at the forefront of power rental in the UK and continued to set the standard within the industry.
The 2.5 acre facility was designed from the ground up to replicate the MEMS unique model that has been operating from their Head Office in Kent for the past 36 years. The £4m investment reinforced the MEMS vision as a first class full service provider in power rental solutions nationwide and ensuring both existing and new customer experiences are of the highest possible standard.
MEMS Company Director, Mark Diffey, said: "Now our Alfreton facility has been open for a year our customers really have seen greatly improved delivery response times in the Midlands and the North. Feedback from customers has been tremendous, to keep up with increased demand we are further expanding the fleet and staff numbers based at the depot. The team really have rose to the challenge, enabling us to now offer a true national service".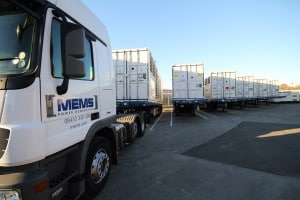 MEMS have developed machines that are user friendly and among the most versatile and quietest in the market. Every MEMS generator, fuel tank, HGV and support vehicles are fitted with the latest in remote monitoring technology as standard, enabling the coordinators in the manned 24 hour control room to monitor the generators performance, location and ETA's of vehicles.
Continued investment ensures MEMS remain at the leading edge of the rental market, MEMS will always be able to offer the most modern and up to date equipment in the market with unrivalled service levels day or night.